Moi Forest has its roots in an ancient forest that takes care of biodiversity and our planet's habitability. The forest offers shelter and a bounty of trees, berries and mushrooms, but above all, forms the core of a living and breathing ecosystem. It took a small bunch of Finnish researchers intrigued by the power of the forest and a few women with a background in natural cosmetics and wellbeing, and an idea began to take shape: maybe it really is possible to create a cosmetic product with beneficial effects for the whole body!
Combining organic ingredients like fatty acid-containing plant oils with magical forest dust® results in superior benefits especially for sensitive skin. The starting point for all of the products is to create a synergistic whole that boosts the skin while causing minimum disturbance to nature.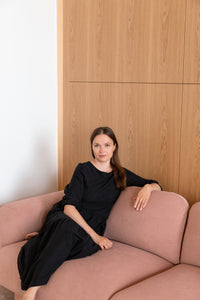 KARITA - FOUNDER OF FOREST PHARMACY AND CREATOR OF MOI FOREST BRAND
"I rub soil into my hands and let it slip through my fingers. My friend and I are taking a walk in our bathrobes in the Japanese garden of Yasuraki spa in the summery Stockholm archipelago. I'm seven months pregnant and all of my senses are heightened. The soil smells divine and feels as smooth as velvet against the palms of my hands. The earth feels grounding and healing on a cellular level. "Someone should bottle this," I say to my friend. With my kitchen quantum physics, I believe Moi Forest was already born at that moment in some reality. 
About a year and a half later, I'm writing this and have come a long way. We'll be launching our product in just a few months. I'm thankful to be part of creating something so incredible but completely natural. We've created this product together with fantastic experts, backed by a team of top scientists from the University of Helsinki and Tampere University. I spent my childhood in the forest, find stroking the bark of a tree therapeutic and feel a warm, compelling sensation when holding stones in my hands. I've always known that the forest is a healer and now it's proven by science. 
We promise to work hard to make sure our products pamper your skin and nourish your immune system. How wonderful to be heading to the forest together."
MARIA - MOI FOREST PRODUCT SPECIALIST AND TRAINER IN HOLISTIC SKINCARE
"I joined the team right from word go. When Karita told me about forest dust® and its potential in skincare products, I was immediately sold. I had read about studies on the proven effects of forest dust®, so getting to develop Moi Forest products was a dream come true. My lengthy background as a trainer in holistic skincare and natural cosmetics gives me insight into treating various skin issues and the skin's vital role in the immune system. My values and vision for the new range of products were in perfect alignment with Karita's, so it was a joy to embark on the journey together. 
My own childhood was strongly affected by allergies towards nature – flowers, trees, grasses, animals. Yet I was always fascinated by nature – after all, I spent most of my childhood surrounded by fields and close to a forest. A holistic understanding as an adult helped me get rid of my allergies and see that it wasn't nature that was to blame but working against it. I've done things differently with my own children and their sensitivity hasn't been a problem so far. Sensitivity is not a burden – it can be a source of strength."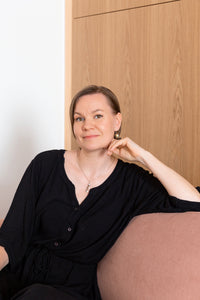 Sustainability
We respect our planet, other people and animals in all of our practices. The organic-certified products are manufactured in Finland. We use clean, organic ingredients that have been collected responsibly with respect to nature and people. Our products are vegan and cruelty-free. They come in recyclable cardboard tubes, a new innovation in packaging. The caps are manufactured from recyclable plastic.